The newest headgear added to the ProForce® line. The Combat by ProForce® Combat Head Guard is a uniquely designed martial arts and boxing head guard that is a must have for training and competitions. Made from an ultra lightweight and super durable shock absorbing rubber. The Combat Head Guard is designed in a truly innovative and ergonomic way. Constructed of a unique controlled density foam- rubber, this headgear is one of the lightest and most durable head guards available. Adjustment is easy, with the nylon hook loop strap. The open face design allows for greater visibility. 24 strategically placed Ultra Channeling Ventilation® vents enable breathability and reduce aerodynamic drag. Can be paired with the ProForce® II Clear Face Shield, for optimal 360° cranial protection.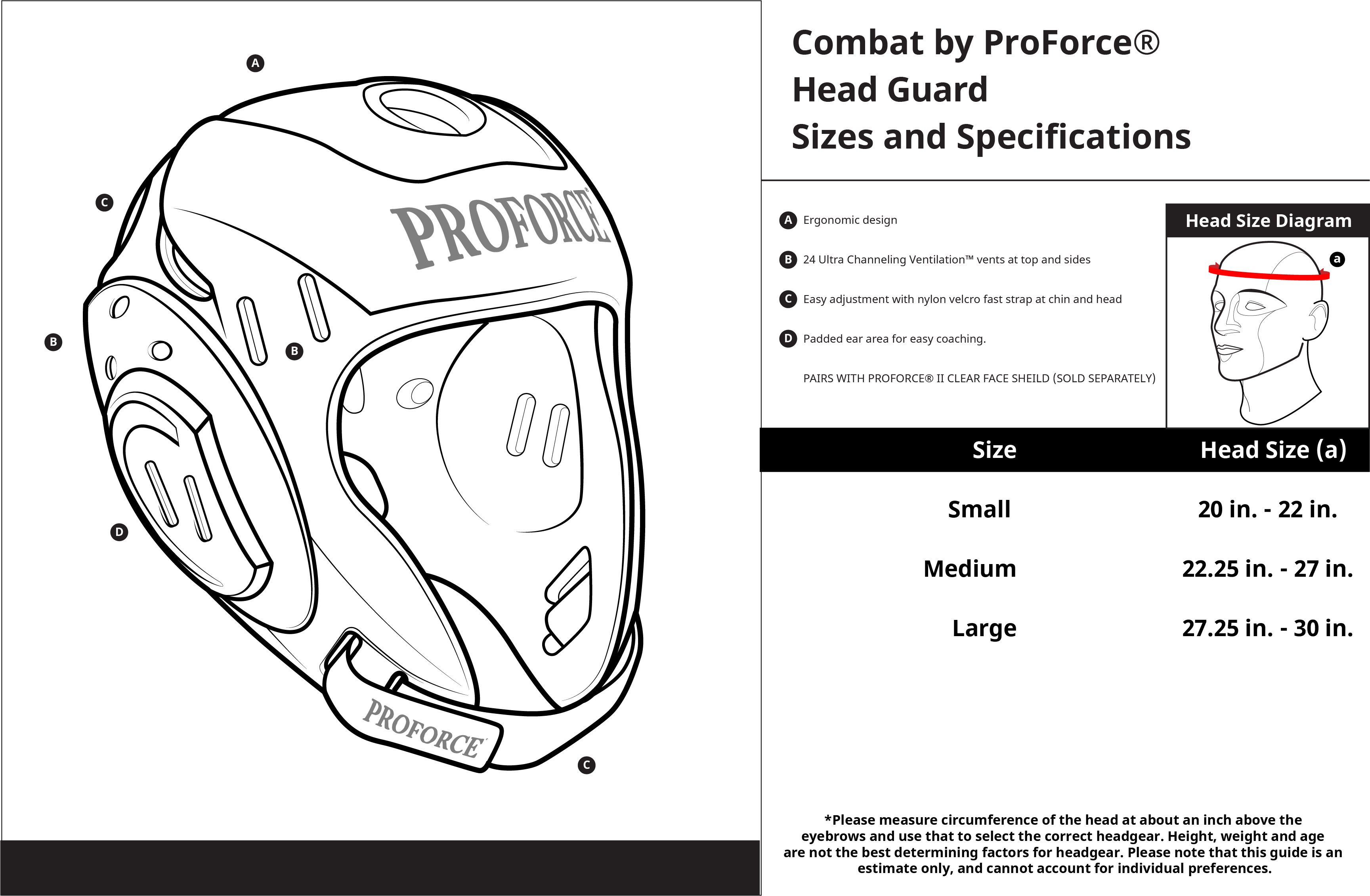 Key Features
Latest Proforce design
The lightest headguard in its class
Ergonomic design
Fully molded
Controlled density foam
24 Ultra Channeling Ventilation® vents at top and sides
Excellent shock absorption
Easy adjustment with nylonhook and loop fast strap at chin and head
Can be used for various combat sports
PAIRS WITH PROFORCE II CLEAR FACE SHEILD (SOLD SEPARATELY)
Our standard ground shipping and handling charge for
retail
orders is $15.95 plus any oversize charges if applicable per order. AWMA uses UPS Ground, air mail, or parcel post unless requested otherwise. The cost will depend on the quantity, weight, dimensions, and the destination of the parcels. UPS Ground takes one (1) to six (6) business days once the package leaves our warehouse in Philadelphia, Pennsylvania. UPS will attempt delivery three (3) times before sending the parcel back to us. The time of delivery is dependent on your local UPS driver. For expedited shipping, please contact our offices at 1-800-345-2962.
TERMS AND CONDITIONS
THE FOLLOWING TERMS AND CONDITIONS APPLY TO ALL SALES AND USES FOR EQUIPMENT OR PRODUCTS SOLD BY AWMA (WHETHER SOLD THROUGH AWMA'S WEBSITE, CATALOG, OR OTHERWISE) (THE "
PRODUCT(S)
"). PLEASE REVIEW CAREFULLY. THESE TERMS AND CONDITIONS INCLUDE LIMITED WARRANTIES, AND DISCLAIMERS OF LIABILITY AND ARBITRATION PROVISIONS. KEEPING, USING, OR ALLOWING USE OF ANY PRODUCT INDICATES YOUR AGREEMENT TO THESE TERMS.
IF YOU DO NOT WISH TO AGREE TO THESE TERMS, YOU HAVE 14 DAYS FROM DATE OF PURCHASE TO RETURN THE UNUSED PRODUCT.
DUTY OF COACHES, TRAINERS, GYMS, AND OTHER PURCHASERS TO INFORM OTHERS OF THESE TERMS AND CONDITIONS
Before you allow others to use an AWMA product, you agree that (a) you will require that they (or their legal guardian if they are minors) read, understand, and agree to these Terms and Conditions of Sale or Use, (b) you believe they (or their guardian) understand that they are participating in a high-risk activity and assume the risk of death, paralysis, or other personal injury, and (c) you agree to indemnify, defend, and hold AWMA harmless from any claims made by them arising from their use of any Product.
HIGH RISK ACTIVITY
Products sold by AWMA include equipment and gear used in boxing, martial arts, mixed martial arts, yoga, fitness, weight training, kick-boxing, competitions and/or demonstration (collectively, "Martial Arts"). Participation in Martial Arts is a high-risk sports activity. Participation in Martial Arts may result in injury, sometimes severe, including, but not limited to, disability, paralysis, or death. You participate in any of these activities at your own risk. You agree to consult with your personal physician before participating in any of these high-risk activities. You, and whoever uses the Products sold by AWMA, use the Products at Your own risk. Read, understand, and follow specific warnings and instructions on Products and in product literature or inserts before using the Products. Save these documents for reference.

MARTIAL ARTS WEAPONS WARNING
All weapons sold by AWMA ("Weapons") are intended for demonstration or display as a collectible item only. Use or misuse of Weapons involves serious risks, including, but not limited to, injury, paralysis, disability, and death. Weapons are sold only for training under expert supervision, for demonstration of forms, collection or display. Inspect weapons before each use to ensure they are in proper condition. If any unsafe, damaged, or defective condition is observed, do not use the Product. Do not use Weapons for sparring or contact.

Sales of certain Weapons are governed by local, state, federal and/or international law. It is Your responsibility to check all applicable laws concerning the use, ownership, legal age and possession of any Weapon before purchasing. By purchasing any Weapon, You warrant that You are in compliance with all local, state, federal and/or international law, and that You are legally able to purchase, possess, and use, and AWMA is legally able to sell to You, all Weapons You purchase from AWMA's website, catalog, or other location. 
AWMA DISCLAIMS ALL LIABILITY RELATED TO IMPROPER, ILLEGAL, UNINTENDED USE OR MODIFICATION OF WEAPONS SOLD THROUGH ITS WEBSITE, CATALOG, OR OTHER LOCATION.

The purchaser, user or participant assumes all risk of injury from any use. No Weapon shall be sold to anyone under 18 years of age without parental consent. Some Weapons may be prohibited in your area. Please check state statutes and local ordinances before ordering. 
ASSUMPTION OF THE RISK
Participation in Martial Arts should be considered a high-risk activity. Your participation in Martial Arts is at your own risk. You agree to consult with your personal physician before participating in any of these high-risk activities. By buying or using any of the Products, You understand and agree that Martial Arts are high risk activities and, to the extent permitted by law, YOU EXPRESSLY AND VOLUNTARILY ASSUME THE RISK OF DEATH, PARALYSIS OR OTHER PERSONAL INJURY TO YOU OR OTHERS SUSTAINED WHILE PARTICIPATING IN SUCH ACTIVITIES OR USING THE PRODUCTS WHETHER OR NOT SUCH HARM WAS CAUSED BY THE NEGLIGENCE OR OTHER FAULT OF AWMA, including, but not limited to, Product defect or malfunction from whatever cause, or any other fault of AWMA. Additionally, you agree to indemnify, defend and hold AWMA harmless from any third party claims arising from such high risk activities, Martial Arts, Martial Arts Weapons or any other Product.

Purchasers, users and participants assume all risk of injury. AWMA cannot and will not be responsible for harm caused by any use or misuse (whether proper or not, authorized or not) of Products.
USE OF THE PRODUCTS
The Products might provide varying degrees of protection, but they are not warranted to protect the user from or prevent any injury, paralysis or death. Users are responsible for their choice and use of the Products purchased. Users of these Products can be subject to injuries, including, but not limited to, physical injury, paralysis, or death, despite using the Products as intended. The user must assume full responsibility for all risk of injuries. The manufacturer and distributor assume no liability for injuries, paralysis or death suffered while wearing or using the Products.
READ AND FOLLOW SPECIFIC WARNINGS AND INSTRUCTIONS ON PRODUCTS AND IN PRODUCT LITERATURE OR INSERTS. SAVE THESE DOCUMENTS FOR REFERENCE. 
Because Products wear down through use and over time, ALWAYS INSPECT ALL Products, including, but not limited to, any gear (training or otherwise), weapons, equipment, mats, and any protective gear before each use. Products that show wear should be immediately replaced and not used in any Martial Arts activity. 
Do not use old, damaged, or modified Products of any kind. 
Use of Products MUST be under the supervision of a skilled instructor who responsibly monitors techniques and intensity of training to assure that students or users are properly trained and physically conditioned. Minors using these Products should have constant, qualified, adult supervision. 
AWMA products do not eliminate, warrant, or guarantee to protect the user from death, disability, or personal injury.

USE OF MATS
All mats purchased from AWMA must be used in accordance with the manufacturer's warnings, manuals, and labels. Always place mats on a flat, level, even surface. Always follow the manufacturer's recommended guidelines and disclaimers.
Use of mats is at the user's own risk.
WARRANTY DISCLAIMER
THE ABOVE STATED WARRANTIES ARE IN LIEU OF ALL OTHER WARRANTIES EXPRESSED OR IMPLIED INCLUDING THE WARRANTIES OF MERCHANTABILITY AND FITNESS FOR A PARTICULAR PURPOSE AND OF ALL OTHER OBLIGATIONS AND LIABILITIES OF AWMA. AWMA NEITHER ASSUMES, NOR AUTHORIZES ANY OTHER PERSON TO ASSUME FOR IT, ANY OTHER LIABILITY IN CONNECTION WITH THE SALE OF PRODUCTS FROM ITS WEBSITE, CATALOG OR OTHERWISE. THE ABOVE LIMITED WARRANTIES SHALL NOT APPLY TO ANY PRODUCT WHICH HAS BEEN SUBJECT TO ACCIDENT, NEGLIGENCE, ALTERATION, ABUSE, OR MISUSE, THE TERM "ORIGINAL PURCHASER" AS USED IN THIS WARRANTY MEANS THE PERSON TO WHOM THE PRODUCT IS ORIGINALLY SOLD AS SHOWN ON THE SALES INVOICE. THESE WARRANTIES SHALL APPLY ONLY WITHIN THE BOUNDARIES OF THE UNITED STATES AND CANADA.
LIMITATION OF LIABILITY
As set forth above under the limited warranty provisions, AWMA liability is limited to repair or replacement of its products which are returned to it prepaid in the specified period of time. In no event shall AWMA's liability exceed the value of the products sold. AWMA shall not be liable for any special or consequential damages that result from the use of any product sold through this website or through its catalog. Applicable law may not allow the limitation or exclusion of liability of special or consequential damages so the above limitation or exclusion may not apply to your purchase, but it is intended to be the maximum limitation as permitted by law.
GENERAL DISCLAIMER
Product descriptions, typographic, pricing and photographic errors are unintentional and subject to correction. We regret, but are not liable for such errors. AWMA reserves the right to reject any orders placed for a product listed at an incorrect price. If you discover an error in our website or catalog, please let us know.
Product weights are approximate and are measured on an averaged ounce per square yard basis. Actual product weights may vary based on various factors, including, but not limited to, the color of the product. AWMA makes no express guarantees or warranties of any kind with respect to actual product weights.
All prices, specifications, and color shades are subject to change without notice.
SEVERABILITY
If any portion of these terms and conditions is invalidated by a Court of competent jurisdiction, then all of the remaining terms and conditions shall remain in full force and effect.
Have questions? Prefer to order by phone at 1-800-345-2962? We're here to help you!